E. Dale Dewberry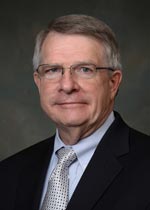 Dale Dewberry is a native Atlantan. He earned his A.B. from Emory University in 1963 and L.L.B. from the Emory University School of Law in 1965.
He was an associate attorney at Rich, Bass and Kidd (Atlanta) and at Rich, Bass, Kidd and Broome from 1965 to 1972, before forming Dewberry & Avery in Decatur.
From 1977 to 1993, Dale was house counsel at Pete Garcia Company and a sole practitioner in Chamblee (Georgia). He later worked as counsel at Peterson, Dillard, Young, Asslin and Powell (Atlanta) and Bach, Hulsey and Carver (Alpharetta).
From 1998 to 2013, Dale was a partner at Bach, Carver and Dewberry, later Bach, Carver, Dewberry and McNaul, and then Bach, Dewberry & Hipes (all in Alpharetta).
For most of his 48-year career, Dale has concentrated his practice in two areas: business transactions and estate planning.
Dale's experience with corporate transactions and matters is extensive, having represented various business owners through three generations of family management.
He also has vast experience settling estates. Under Dale's leadership, the firm provides estate planning along a spectrum of income levels from hourly wage earners to physicians and other professionals with both family and business concerns.
Dale is admitted to practice law in all State of Georgia courts, including the Georgia Court of Appeals and Georgia Supreme Court, and the United States District Court for the Northern District of Georgia.
Dale is an agent and an approved attorney for Lawyers Title Insurance Company. He is a member of the State Bar of Georgia, the North Fulton Bar Association, the Old Warhorse Lawyers Club of Atlanta, Kiwanis Club of Alpharetta and the First Presbyterian Church of Atlanta, where he is a former elder.
He proudly devotes time and resources to support the Georgia Burn Foundation. He's been married for 49 years and has two sons and three granddaughters. His hobbies include antique cars and woodworking.