David Belle Isle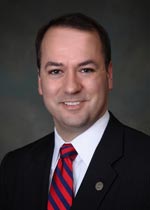 David Belle Isle is a fifth-generation Atlantan. He earned his B.B.A. in marketing from the University of Georgia's Terry College of Business (Athens), 1997. He received his M.B.A. from Georgia State University's J. Mack College of Business (Atlanta) and his J.D. from Georgia State's College of Law in 2000. He practiced real-estate law in the metropolitan area for seven years before founding the Belle Isle Law Group, LLC (Alpharetta), concentrating his practice in commercial real estate law.
David specializes in closing commercial real estate and other secured-transaction loans, involving both conventional and Small Business Administration 7(a) and 504 funding. He has experience designing and implementing documentation strategies to collateralize real estate, equipment, income streams, guaranties and lease obligations. He represents national, regional and local banks in term loans, lines of credit and construction loans, facilitating the refinance and purchase of mid-rise office buildings, shopping centers, assisted-living facilities, auto dealerships, franchises, hotels, restaurants, skate rinks, bowling allies, multi-family developments, inventory and equipment. He represents landlords and tenants in leases involving retail, office and industrial warehouse facilities; lease-purchase transactions, and management and asset-purchase agreements. David also assists clients in the creation of corporations, limited liability corporations and partnerships.
David has been named a Top Young Attorney in Georgia (2009 and 2012) by Atlanta Magazine's Super Lawyers edition, 'a rating service of outstanding lawyers from more than 70 practice areas who have attained a high degree of peer recognition and professional achievement.' He has also been named Best Attorney by My Alpharetta Magazine (2012).
Admitted to practice law in the State of Georgia, David is a member of the State Bar of Georgia and the North Fulton Bar Association. Specific to his area of practice, David is a member of the National Association of Government Guaranteed Lenders and the Georgia Lender's Quality Circle. He is also a member of the Alpharetta Business Association and the Johns Creek Business Association.
An active community leader, David has served as an Alpharetta City Councilman and currently serves as Mayor. As Mayor of Alpharetta, David has worked to reinvent and energize the city's downtown corridor. Together with Council, he has branded Alpharetta the Technology City of the South. He launched the state's first Technology Advisory Commission, tapping into the leadership of Alpharetta's 900-plus technology firms, and worked to win the bid to make Alpharetta home to Gwinnett Technical College's new North Fulton campus.
David serves on the Greater North Fulton Chamber of Commerce Board of Directors, Alpharetta Convention & Visitors Bureau Board of Directors and the North Fulton Mayor's Association. He is also a member of the Alpharetta Rotary Club.
David's past-times include bible study, golf and the occasional hunting weekend with friends. He is a member of North Point Community Church, where he has led couples' small groups, and he volunteers for Alpharetta (Cub Scout) Pack 1429. He and his wife are raising their two children in Alpharetta.